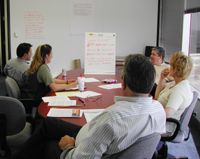 When the exception becomes the rule, itís time to evaluate your internal systems. We offer operational reviews and provide solutions for managing compliance information. We build procedures that work. We customize solutions to meet the specific needs of each client. We implement turn-key solutions.
Broker and Forwarder Selection, Set-up and Review
Standard Operating Procedures
Valuation Review and Reconciliation
Classification Methodology
Special Trade Agreement Management
Foreign Trade Zones / Sub-Zones Set-up
Country of Origin Management
98 Program Management
C-TPAT Set-up
Compliance Improvement Plans
Trade Systems Development

For more information, email Ro Leaphart or call 415-713-8371.