If you answer yes to any of these questions:
Are you studying alone without the advice of an expert?
Does your study group need a professional advisor?
Do you feel "left behind" by your study group?
Are you an auditory learner and need verbal instruction?
Do you lack "test taking" confidence or need emotional support?
Have you previously studied for the exam and failed?
Would you like to consult a professional regarding your exam results?
Consider Leaphart + Associate's Remote Tutorial Services
1:1 Student to Teacher interaction with Ro Leaphart.
Dialogue with a professional to clarify the finer points
Expert assessment, feedback and direction
Performance coaching to improve motivation and confidence
Receive additional classification, valuation and regulatory exercises
Tutorial Level Access at the Learning Center. Gives you access to more Study Tools and Class Tutorials (class room exercises and quizzes).
CONTACT US PRIOR TO REGISTERING. TUTOR AVAILABILITY and APPROVAL REQUIRED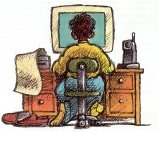 Email: Tutorial Service

Telephone: 415-713-8371